Bon Voyage Thailand is approved by
The Amazing Thailand Safety & Health Administration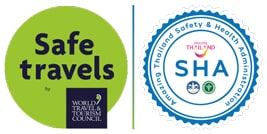 Chiang Mai
Chiang Mai is a unique city, a place where culture and traditions merge with modern life, and also the most popular place for tourists who want to experience Thailand's natural beauty. It is a city that is bustling during the day and comes to life at night when the sounds of the street turn into a symphony of laughter and chatter.
During the day, the city offers many activities: tours, temple hopping, markets and boutiques. If you are feeling a little adventurous, rent a scooter and take one of the many scenic drives in the area.
Why book a tour with us?
Bon Voyage Thailand offers sightseeing tours, trekking and excursions in and around Thailand, our expertise : Chiang Mai, Chiang Rai, Bangkok and Phuket, we strive to make your experience of a lifetime. 100% Holliday Guarantee
We know Chiang Mai inside out.
We are fully accredited.
Fluent English speaking tour guides.
We only work with the best tour agencies.
Real low pricing, guaranteed.
Chiang Rai
Chiang Rai is a popular tourist destination in northern Thailand. The city offers a variety of attractions for visitors who want to experience a different part of Thai life. It is located in the Golden Triangle, the area where Thailand, Laos, and Myanmar (Burma) meet and where various hill tribes such as Karen, Hmong, Lisu, Yao, and others live.
Bangkok
Bangkok is one of the largest cities in the world, Bangkok has something for everyone, beautiful temples, palaces, museums, delicious Thai cuisine, high-end shopping, and modern skyscrapers, a city that never sleeps. Here's a list of some of our favorite things to do in Bangkok.
Phuket
Phuket is one of the most popular tourist destinations in the south of Thailand. You can choose to spend your time snorkeling, lay down on a white-sand beach, visit a nearby island on a long-tail boat, speedboat or catamaran. Here's a list of things to do in Phuket.